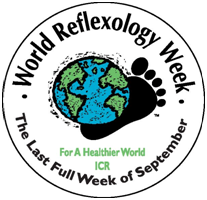 Come celebrate World Reflexology Week with us at our OUTDOOR event at the Community Center on Lake Massapoag in Sharon, MA on
September 27th 10am-3pm
We will be providing mini reflexology sessions in a safe socially distant manner.
YOU MAY REGISTER AHEAD OF TIME FOR THE TIME OF YOUR SESSION. THEY ARE 20 MINUTES EACH STARTING ON THE HOUR OR HALF HOUR.  Contact Barbara @ 781 258 9942
This is a fundraiser for Lucy's Love Bus, a wonderful organization that supports children with cancer. 100% of donations goes to these precious children and their families for those unemployed or unable to work due to COVID.
Your donation enables Lucy's Love Bus to deliver comfort and quality of life to children with cancer. What your gift means during the COVID-19 crisis:
$25 = a tank of gas for hospital appointments
$50 = essential oil kit to ease anxiety and encourage sleep for Chloe
$100 = a week's worth of groceries for a family of 4
$250 = one month of gas and electric bills
$500 = 10 virtual monthly support group sessions for parents coping with their child's illness
$1,000 = heating oil for one month for 4 families
If you cannot attend the in-person event please feel free to just make a donation.
---
Introducing our NEW program….Divine Matrix Mastership Healing Program….Please see School of the Universe tab for details!!
Heart and Soul Holistic Healing Center, is a spiritual center manifested from the energies of the Flower of Life, a sacred geometric symbol and a lifelong dream of bringing healing to the world.
The Flower of Life is a symbol of Oneness, Interconnectedness of all living things, a symbol of hope, love and light.   The Flower of Life is the symbol of the six days of creation and it is the divine blueprint for All life, for our DNA and that of every living thing.
As we reconnect to our Oneness…
As we reconnect to our Divine Blueprint….
As we reconnect to our Soul's Purpose….
WE HEAL AS ONE
THIS IS FOR YOU, THIS IS FOR ME, THIS IS FOR HUMANITY!
Our intention is to spread healing throughout the world, through touch, power of words and thoughts, sound healing, smells and vision. For as you heal, everyone you "touch" heals.
Heart and Soul has 3 key components:
Healing Arts
Classes for Healing Body, Mind and Spirit, as well as Special Informational programs
Integrating with and supporting your Allopathic and Functional Medicine Physicians
Our intention at Heart and Soul Holistic Healing Center is to be THE GO TO CENTER for mind body therapies and conscious living.
Heart and Soul Holistic Healing Center will be offering programs and different healing modalities that facilitate your healing. All healing comes from within. INCURABLE means, curable from within!
Our mediation classes, yoga programs, emotional release work, reflexology, reiki, consciousness training, aromatherapy, sound healing, healthy living programs, and so much more, will all facilitate your healing.
Our intention is we will be working with your physicians, helping you to heal the root cause of your stress and the diseases your body presents to them through blood work, urine analysis, xrays and MRI's. A collaborative , holistic approach to healing will speed your process back to perfect health, to your Divine Blueprint.   As everything is energy, we will transmute and transform the energies that no longer serve you. Together, and you are an integral part of the healing, for ALL healing comes from within, you will create a new you.
Reconnect, realign, redesign…
As we connect the dots in your life, of your life experiences, we uncover the root cause. We clear those energies and blockages, be they food related, traumatic  events, thoughts… so we can reconnect you to your divine blueprint, then we realign the energy meridians, and together we redesign you! Read more about Divine Matrix Healing.